Church Sound Systems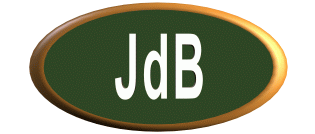 Helping Churches to grow by Solving Church Sound problems - since 1982.

For help anywhere in the USA and Canada Ph. 1-416-248-9007 - Toronto, Ontario Canada
Church Audio and Acoustics Consulting, Private Training Seminars and Public Speaking engagements.

Here are some photo's of current and completed projects.
(These description only tell part of the story. A book could be written about each project.)

Good Shepherd Roman Catholic Church
Orleans, Ontario, Canada

Before:
Average RT60 4.5 seconds
Intelligibility Score: 22%Alcons
Padded Pews have not been delivered yet.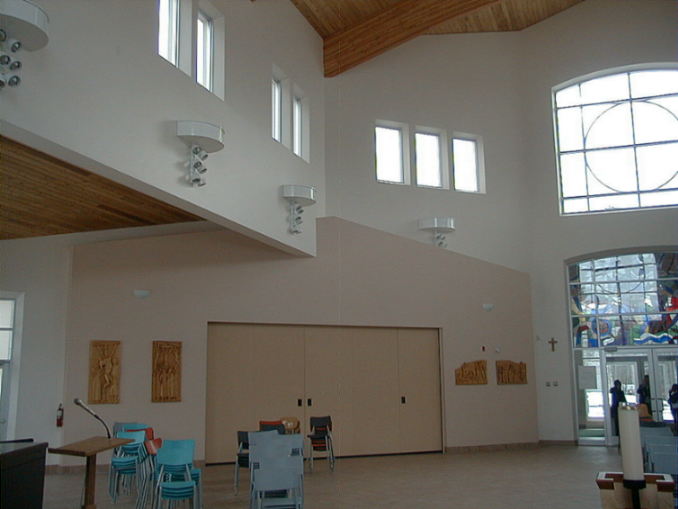 After:
Average RT60 2.7 seconds
Intelligibility Score: 10%Alcons
Padded Pews have not been delivered yet.
It is predicted that once the pews arrive, it will bring down the RT60 down to 1.7 second and the intelligibility will improved to 7% average.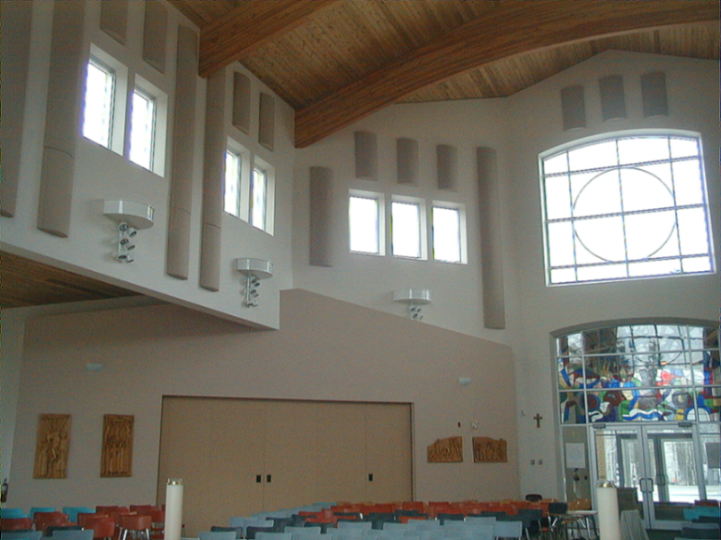 Sao Paulo, Brazil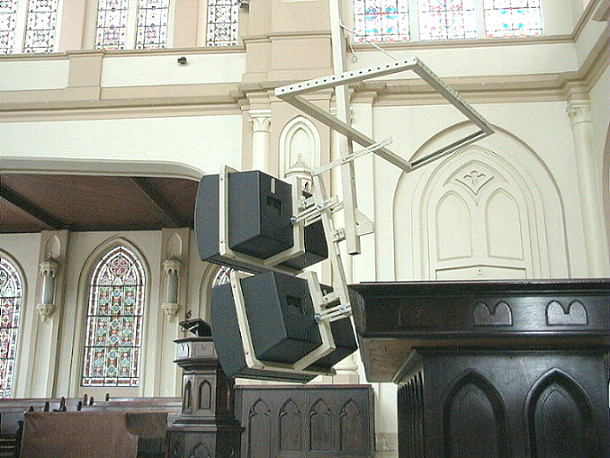 Making Speaker brackets for a cathedral is not easy. In this case the top speaker is for the balcony,
the bottom speaker is for the main floor area and the bracket on the back is for stage lighting.
The speakers can only be tilted. The ability to pan the speakers was not needed.
12 focused lights were added for down washes and spot lights.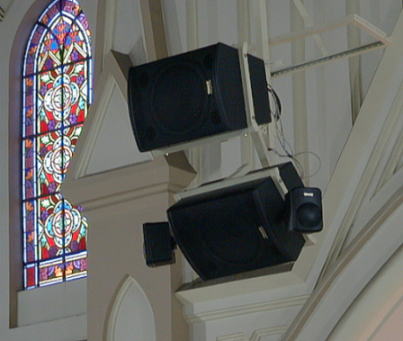 The church is shaped like a cross. There are seating section on the second floor side area. The two smaller speakers are
side fills for when there is seating in the upper wings. Most of the time the speakers are switch off.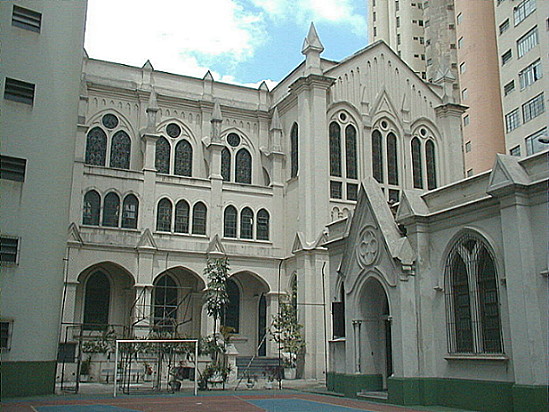 This church is made of concrete from the ground up to the roof.
The only wood was in the attic and the ceiling of the sanctuary.
Please notice that this church has flying buttresses. Few modern churches are built like this.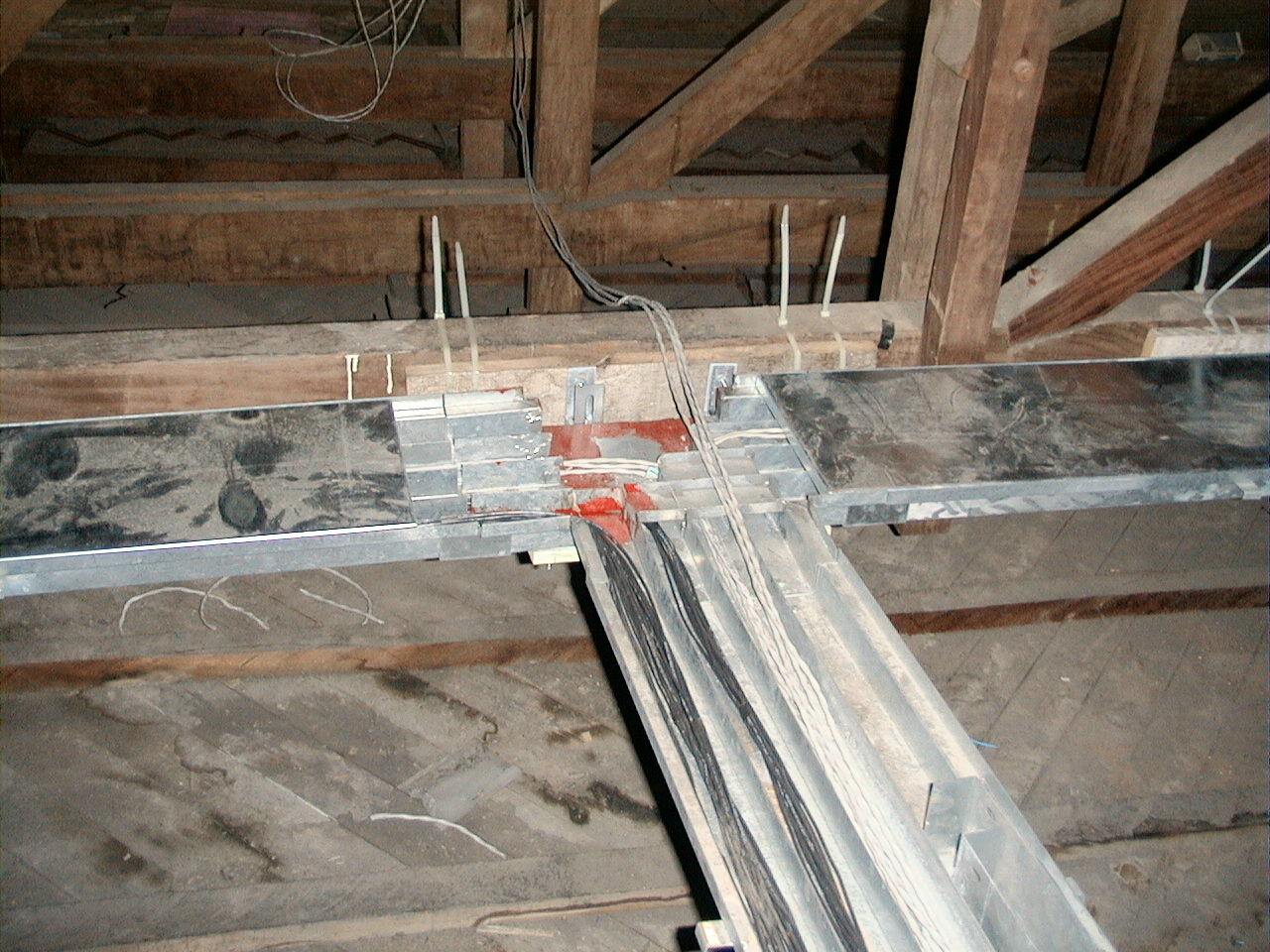 When running the cables in the attic, not screws or nails could be used because of the huge termite problems.
Everything was tie wrapped into place in metal trays which keeps the rodents out.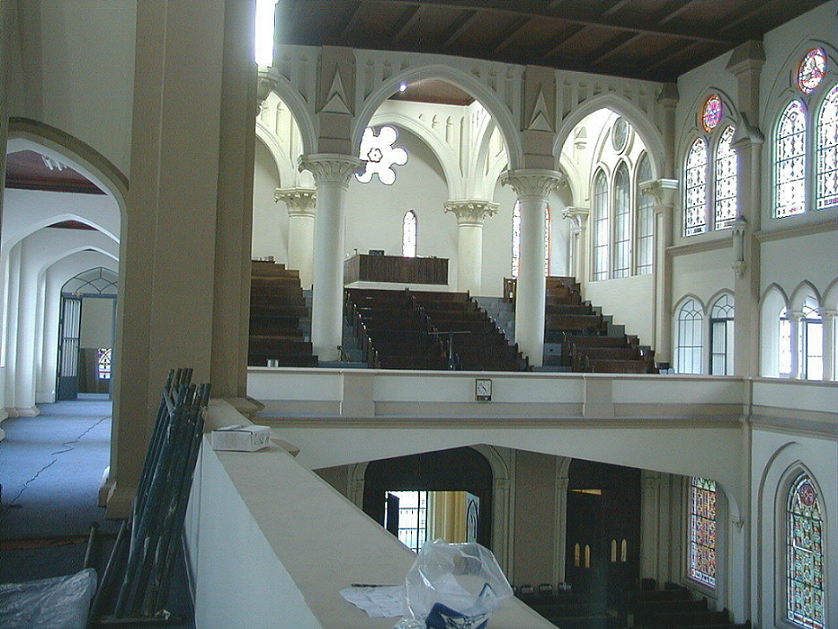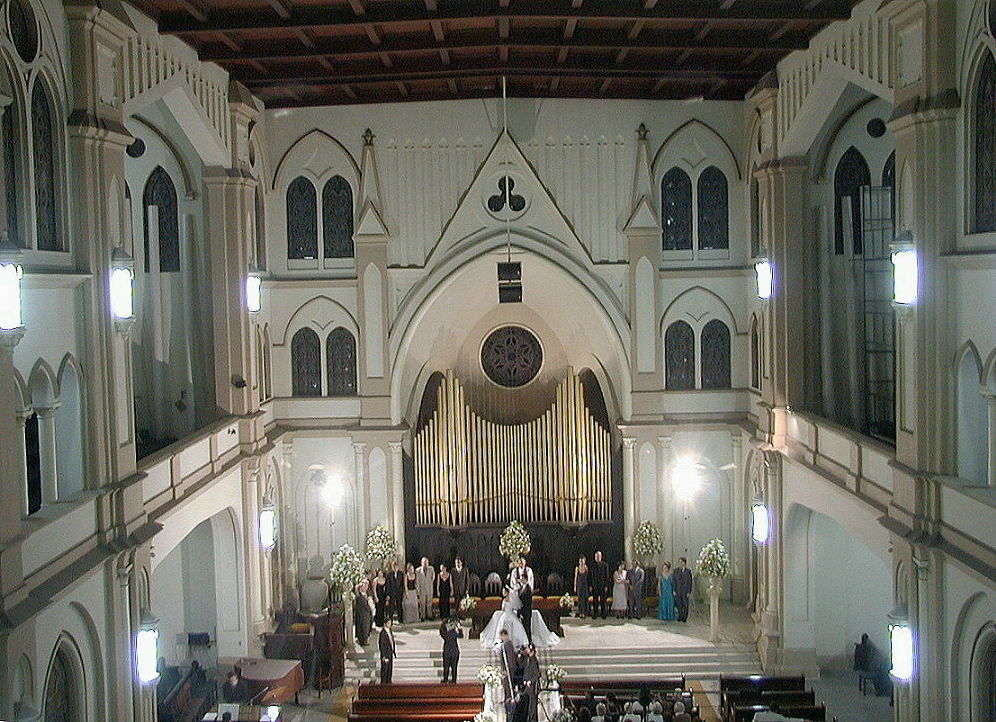 Plastic pipe was used to do the primary fix to the room of the sanctuary. If you look at the left and right upper balcony area you can see the plastic pipes cut in half and just simple placed on the side wall in 16 ft. lengths. These pipes were up for demonstration purposes before they would be installed. Many churches need demonstrations of the recommendations of a consultant when the recommendation in non traditional. People had expected to see absorbing panels on the walls, not plastic pipe. However, the pipe actually blended in with the existing while pillars thought-out the room.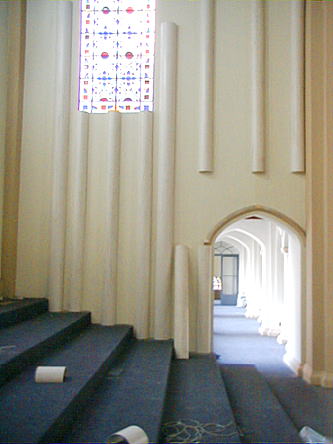 Here are the pipe being installed.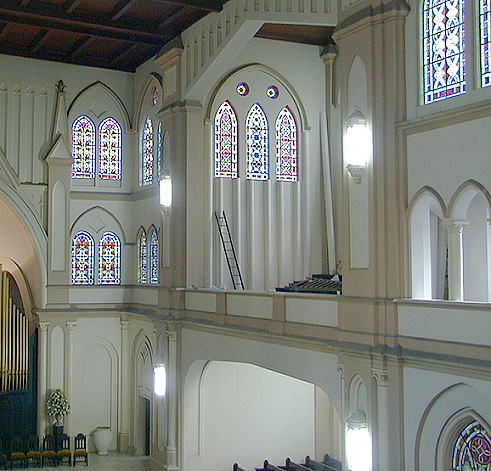 If you look carefully, there are a number of half round pillars around the room. As one person put it, the new pillars give the room much more character as well as making the room sound great. When the pillars were finished, crown moldings were added to blend the old in with the new. They even mixed sand in with the paint to give the plastic pipe a concrete finish. There were over 60 diffusers installed varying in lengths from 4 feet to 16 feet. Some were added to the organ loft which improved the performance of the organ substantially.

There were a number of other similar acoustical changes made to this church which were added at the same
time but details about them are not for public disclosure.
Church Acoustics is not about flat panels. It rarely is.
Flat panels do not address the layers of acoustical problems churches have.
In this church, doors were added, some windows were added and some carpet on the second floor was added. All of the visible acoustical treatments were diffusive. The reverberation in this church dropped from 7 seconds down to 1.9 as planned from 270 to 3000 hertz. Carpeting or padded seating could not be added on the main floor as the church floods a foot or two on occasion every 4 or 5 years.


Back to JdB Sound Home Page

---

e-mail address - jdbwork@jdbsound.com
Back to The Church Sound Network Learning Center

Copyright © JdB Sound, Acoustics . 1999-2005

---