A unique Acoustical System designed for churches that you can custom order. PPD panels were developed and designed exclusively for churches. Churches often need control of:



Standing waves
Echo's
Bass build up or bass boom
Excessive Reverberation time
Early reflections which degrade speech

PPD are designed to solve these problems and more.
The benifets of these panels are many.

Clearer speech
Better solo music presentations
The choir will sound better
The Organ and Piano will sound better
The sound system will work better than ever
The area where the choir can perform from will be bigger
The sweet spot of the room will be larger.

Panel Details

Every panel is 2 ft. wide x 4 ft. high.
Diffuses High Frequency Sound
Absorbs Mid Range Sounds
Traps Bass Sound - As Low as 30 Hertz
Custom tuning
Factory Direct service and installation
Custom colours
---
Panel Description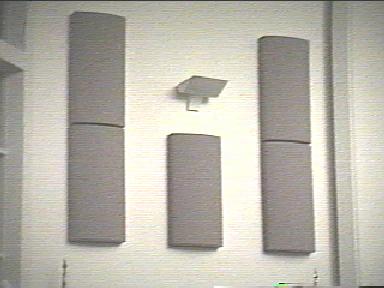 The front face is curved for diffusion of high frequency sound. (usually anything above 800 hertz). These panels are customized to vary the low frequency absorption needs and standing wave controls.

All panels are covered with fire rated cloth from Guilford Maine. There are hundreds of colors and patterns to choose from.

In the development of these traps, the absorption rate of bass was higher than what was expected in the proto type stage of it's development. These panel work best when grouped together in groups of 3 units - mounted vertically with 30 inch spacing and place in a horizontal row.
In one church that seats 800 people and just over 800,000 cubic feet, the RT60 dropped from 5.3 second to 1.8 seconds with only 91 panels. What was most impressive was the control at low frequency. The church was finished with hollow drywall walls, carpeted floor and padded pews. At 400 hertz the RT60 was over 6.6 second while at 4,000 hertz, the RT60 was 3.6 seconds. Today the church is 2.0 second at 400 hertz and 1.6 seconds at 4,000 hertz. The total cost of fixing this church was less than $20,000 or less than $25.00 per seating position. Previously, this church tried two other acoustical flat panels with little success. Also. two years earlier, they spent over $80,000.00 for the sound system which never worked properly from day one. We reinstalled it and the church sold off the extra equipment which paid for half of the PPD panels. Had the church learned about JdB Sound, Acoustic Lab. earlier, they could have installed the PPD panels and a new "State of the Art" "blow everyone away" sound system for under $60,000.00.

Example

Graph 1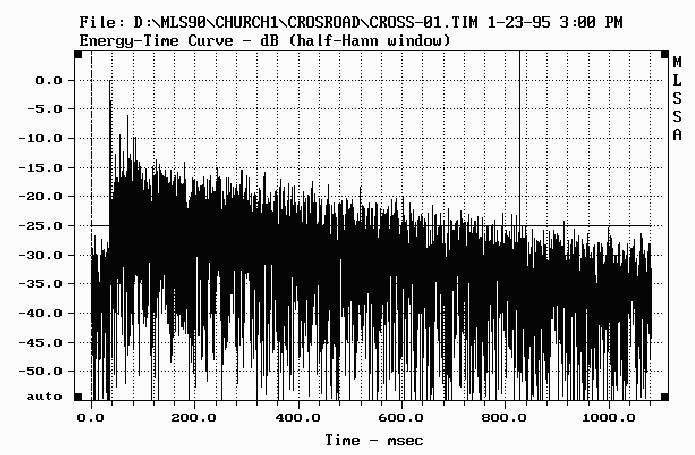 The following two graphs are an example of a church that had acoustical treatment using PPD's. The first graph shows a church with a long reverb time and a lot of energy above -25dB in the first 150 milliseconds. These room reflections are noise. Noise that interferes with speech, music and the performance of your sound system. For good hearing condition, you signal to noise should be 25dB or better. In this sample, the signal to noise is around 15dB at 200 milliseconds.Graph 2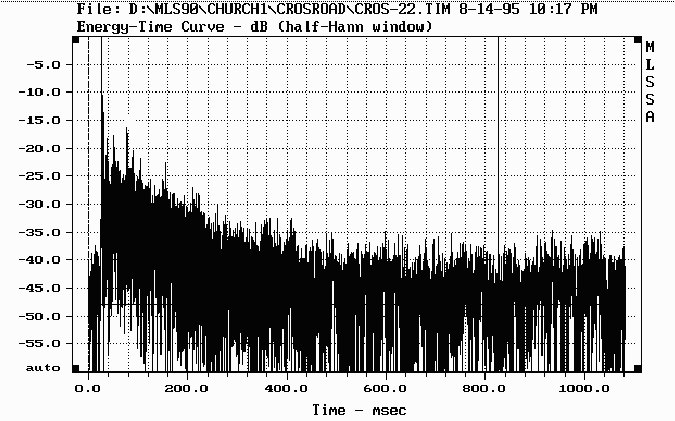 This graph shows the results of acoustical treatment. It shows a fast decay in the first 200 milliseconds which is very desirable. In this case, the treatment was for an evangelical style of worship. While installing the PPD traps, we took other measurements that demonstrated this church could of had a fast decay in the first 200 milliseconds, but the average RT60 would have been over 2 seconds. If this church were a traditional type, we could have left the church sounding very classical.

This is the kind of work few acoustical experts know how to do and this is what we specialize in for churches and only churches.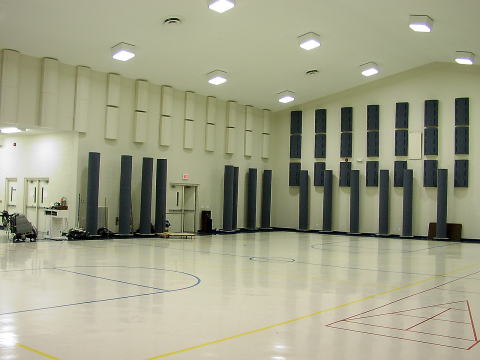 As a complete service, we like the hands on approach to helping churches. When possible, we like to come and visit your church and take the needed measurements with professional test equipment to ensure the results you are seeking. When the solution is decided, you will have a choice to use PPD panels, a custom panel or someone else's panels .

If you use our panels, we have a simple policy. If we quote you a price for solving a problem and we under estimate the number of panels needed, JdB Sound, Acoustic. will building, deliver and install the extra panels at no extra cost. And yes, we have under estimated in two cases, and we had to doubled the number of traps at no extra charge to the church. (Sometimes when you start solving one problem, another one shows up regardless of the pre testing and homework. Some churches are more difficult that others. However, the commitment stands.)
Generally, there are a few simple rules to determine how much acoustical treatment will be needed in your church. Generally, it only takes from 5 or 10% of the total wall space of acoustical panels to fix a room.

As shown in the picture above at Trinity, St. Andrews United Church, it only took 6% of the total available wall space to salvage a church that many experts said could not be fixed or said it would be too expensive. Had the church wanted a more aggressive attack of it's acoustics, the RT60 could have been reduce to less than 1.4 seconds with only 10% of the available wall space treated.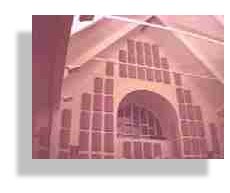 Another bonus if your use our panels
Should you use our panels, we can now better predict the end results. It is a known fact that computer modeling is costly, time consuming and does not predict the results of random shapes very well. A 500 seat church can take up to 50 hours to do on a computer modeling program. What is we known in the acoustical community is that these modeling programs can be off considerably. Today, There is a better way to predict the results that is almost error free.

We are now able to build a scale model of your church to a 1 inch scale. Since we use a reusable construction material, model building is fast. The one inch scale model are large. A 300 seat church takes about 2 days to build and test and a 1500 seat church takes about 4 days to build. These models are large enough to actually test the model with standard test equipment such as TEF or MLSSA.
What has been the most exciting part of this has been the translation from the model to real life. If we test the model and we determine that 20 panels are needed to solve a problems, that is what your church will need as well and we guarantee it. This is a better method of determining the real cost of fixing your church and from our past experience, far less guessing because we are using a better method of predicting the results. There is a charge for the modeling work. 50% of it goes to the cost of any acoustical panels we supply.And besides, if we're wrong, we will do whatever it take to solve it anyways.

Should you prefer someone else's acoustical products, we can test them for you. The same low cost charges apply. The models can also be assembled at your church so that you can see the testing process yourself, anywhere in North America. Again, if you are not sure of the results of you acoustical supplier, we can test their recommendations to confirm how much acoustically treatment you really need. We can also tell you how the room will sound after they treat it.

Additional read you chould consider:



More Samples Of PPD Panels The following web page has large pictures. They may take a while to down load.If you would like to use this product for your church, our e-mail address is jdb@jdbsound.com.
or call 416-248-9007

For Ready Made Half Round and PPD diffusers, contact:
- CS Acoustics, New Hamburg, Ontario Canada.
-- Cell/office 1-519-574-9102
info@csacoustics.ca

They can ship anywhere in the USA or Canada.



---
Copyright © 1995/96 Joe De Buglio

Other JDB Products or Services
JdB Sound, Acoustic Home Page

Created Jan. 5, 1996 - Updated May 2011

---