More Places and Projects
Projects of 2002-2005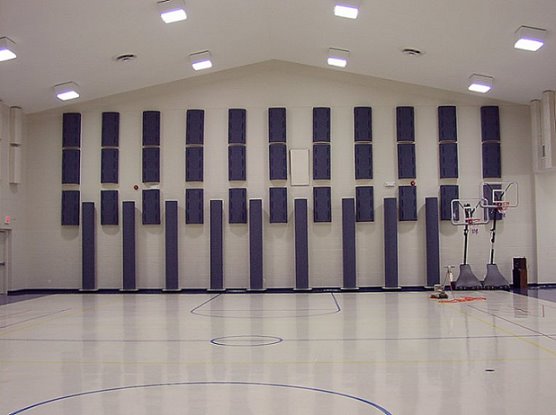 Gym with fixed panels and portable panels on wheels that get used in other places within the church.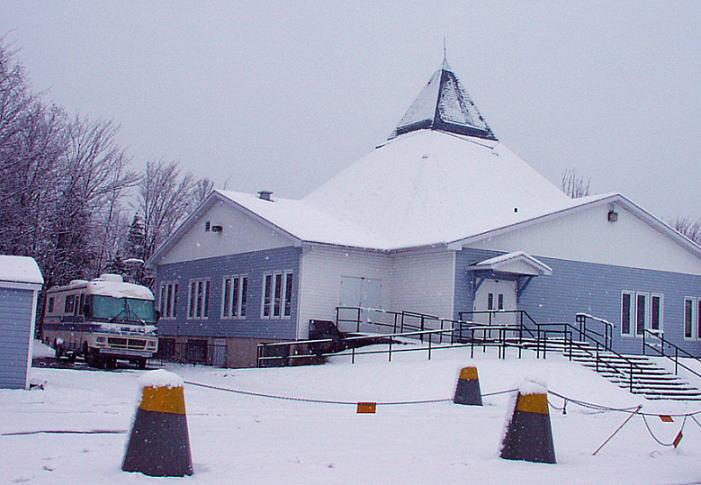 Weather is never an issue. Our RV is ready for year round use. This is a church in Mount Forest, Quebec.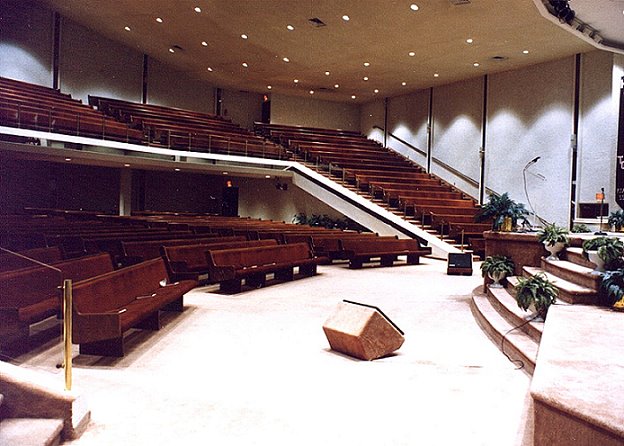 Some project are just so successful that you want to show it off again, again and again. This is a church in Toronto, Ontario.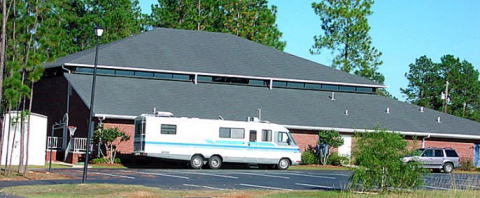 Asbury United Methodist Church, Petal, Mississippi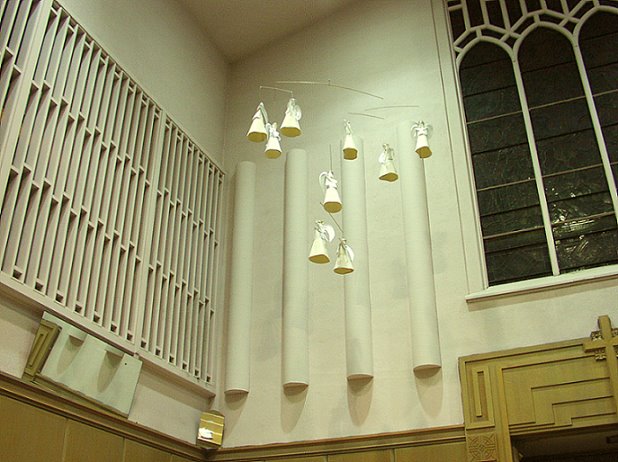 Simple diffusers can make a big difference.
Some churches have copied these examples and found about a 50% improvement.
For most, they have never heard a room that is so much better. With a planned fix for the room,
using the same diffuser, you can get a 90 to 100% improvement. Most people cannot imagine
that much of an acoustical improvement.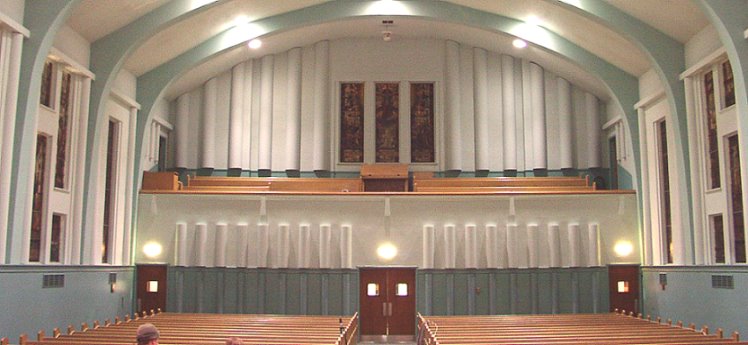 This is the back of the same church
Here is a combination of 8", 12" and 18" diffusers on the back wall. On either side of the windows there are 8" diffusers..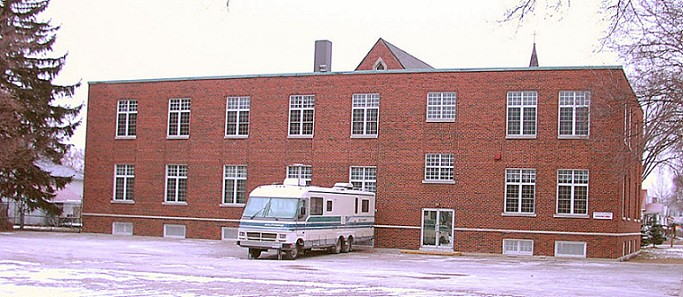 Sarnia, Ontario.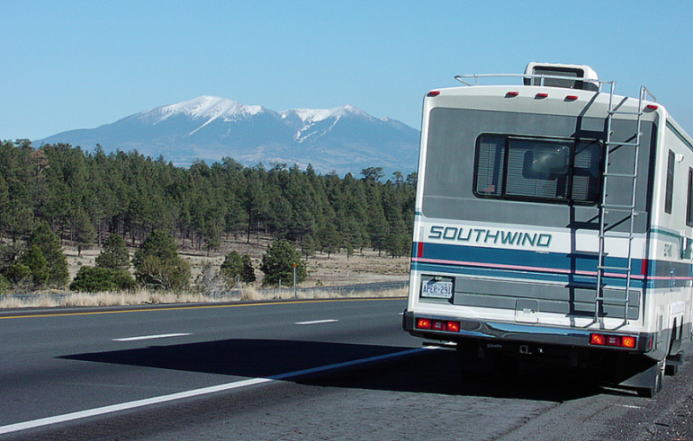 On our way to California.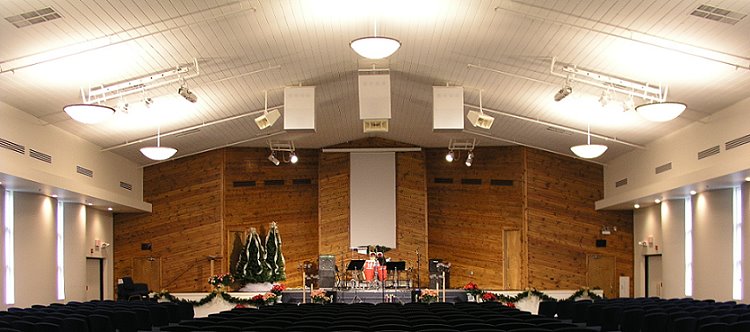 Vineyard Church, Chicago
Side wall diffuser. New Altec -Voice of the Theater Cluster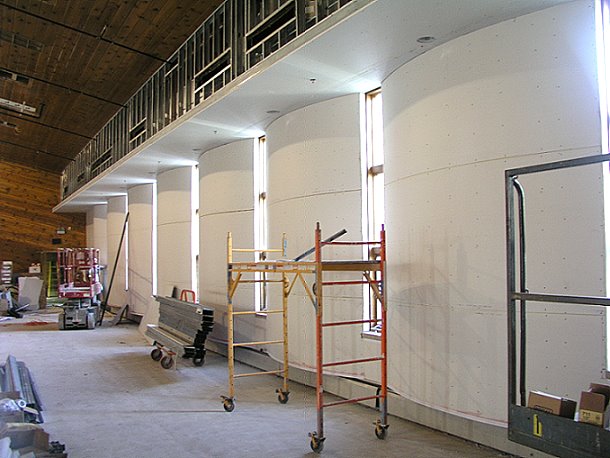 The diffusers are of drywall which also increase the "R" value of the walls for heat and cool lose control.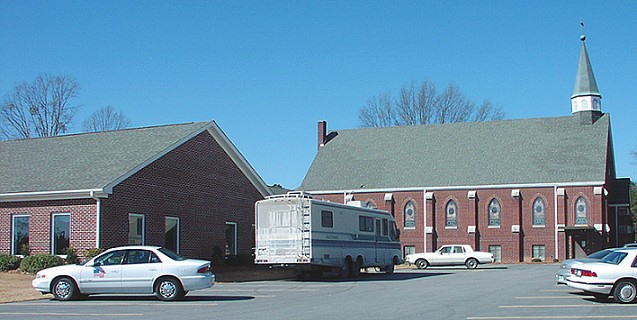 Colony Lutheran Church, Newberry, SC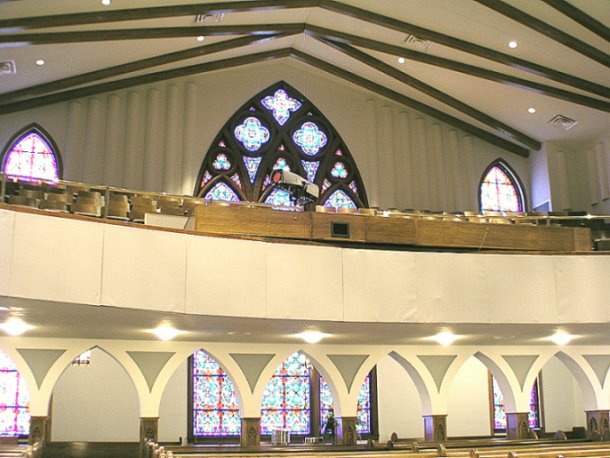 First Baptist Church, Norman Oklahoma.
The front face of this balcony is full of diffusers. They are hidden under the cloth.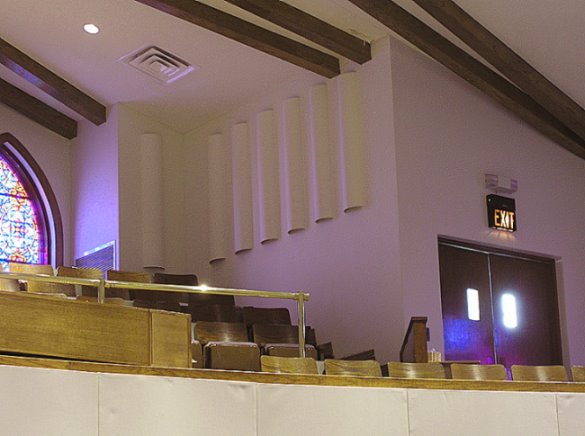 In this project there was no need to cap the tops and bottoms of the diffusers.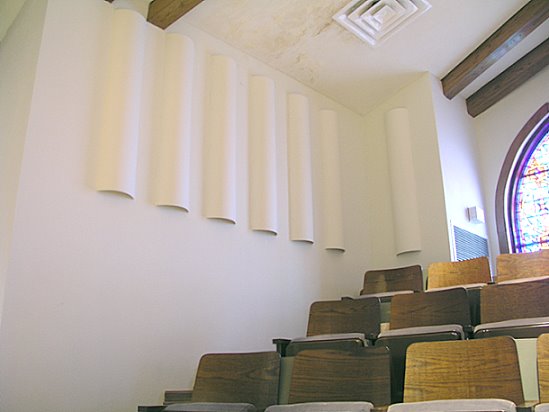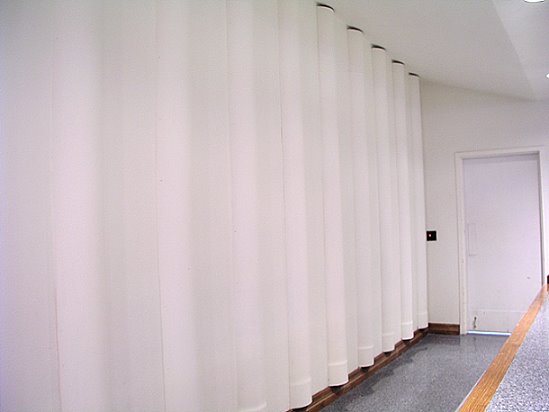 Another detail in using barrel diffusers is the rate of the outround. 1/4 round, 1/3rd, 1/2rd, 2/3rd, full round and anything in between.
When space is limited you can use wider diffusers that have less of a curve. In this case 1/3rd diffusers were used.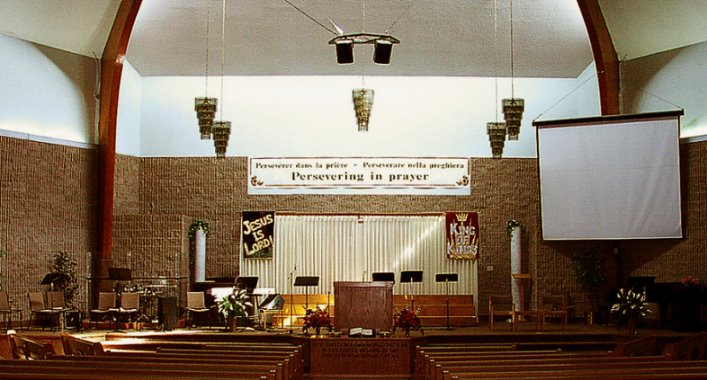 Emmanual Pentecostal Church, Montreal Quebec. Here we assisted with Acoustics, the sound system design and the Video System.
This photo is before anything was done.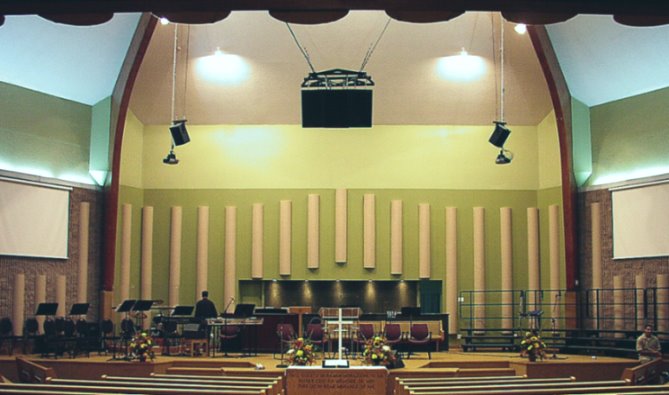 After the project was partially completed.



St Bernard's Church, Keene, NH.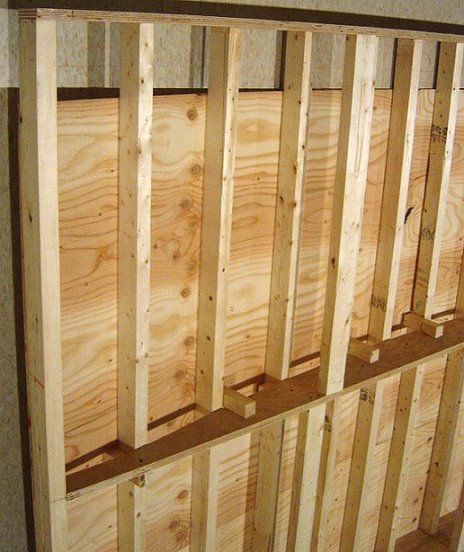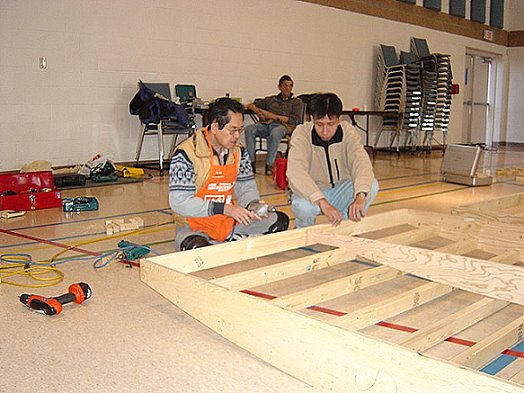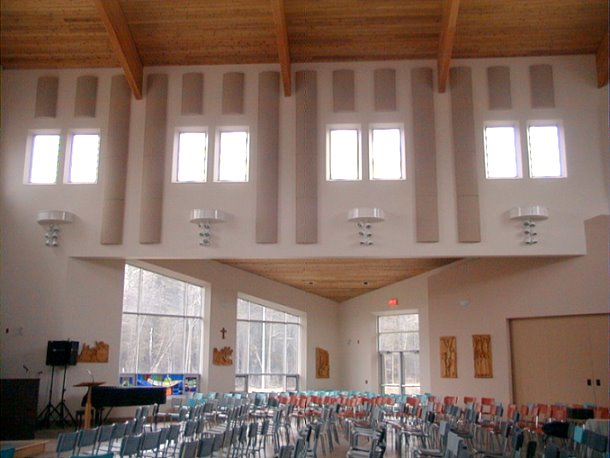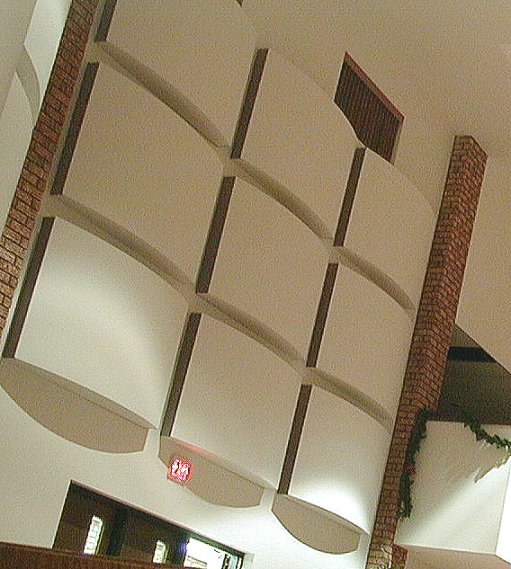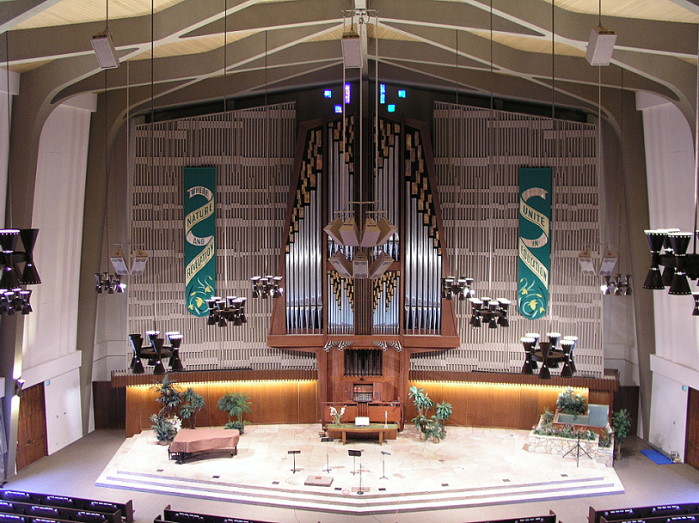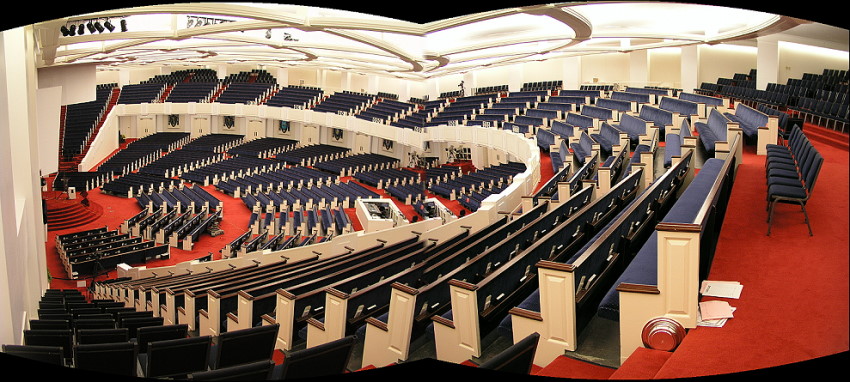 Yes, we fix the acoustics of large churches too




Larger churches are often easier to fix as they offer more surfaces to transform a room
Cornerstone Church, John Haggie Ministries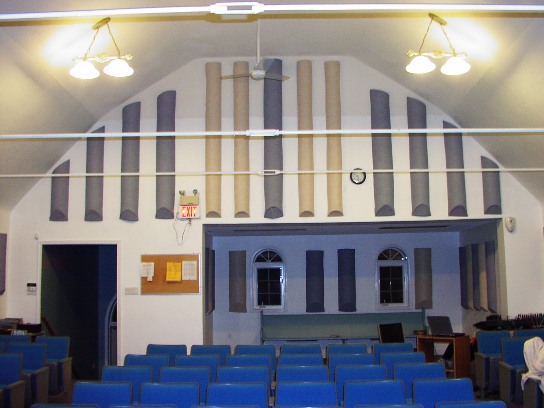 Note about Fire Code Issues.


Canadian National Fire code that is adopted by almost all local cities.

18. Flame spread:
(1) Coating materials for interior finishing that are an integral part of the surface of a wall or a ceiling in an assembly occupancy must have a flame spread rating of not more than 150. This rating is the same for partitions or moveable screens.
(2) Wall hangings, curtains and decorative materials made out of textiles and used in:
(a)

an assembly occupancy or a hospital or special care institution;

(b) a corridor or an exit;

(c)

a floor area without partitions of more than 500 square metres used as an office, except if this floor is divided into compartments of not more than 500 square metres separated by fire separations whose fire-resistance rating is at least

3/4

of an hour;
shall have the degree of flame-resistance corresponding to the test method 27.1 of the Standard CAN 2-4.2-M77, Canadian Standard for Textile Test Methods.

(3) Decorations made of resinous trees such as fir, pine or spruce or branches from such trees, of nitrocellulose or crepe paper, except if the latter meets the requirements of ULC-S109-1969 Standard for Flame Tests, Flame-Resistant Fabrics and Films, may not be used in an assembly occupancy, hotel or a hospital or special care institution.

Subsections 2 and 3 do not apply to places of worship.

This part of the fire code allows for home made acoustical solutions to be used in churches. However, churches should take great care with positioning panels away from possible fire hazards. Panels that do come in contact with people or where people can read them should be made of a more fire resisant material or be fire treated or covered with fire rated cloth.



Thank you.

JdB Sound Acoustics Home Page
JdB Sound Acoustics
PH. 416-248-9007
Our e-mail address is - jdb@jdbsound.com