Hot Products
For Church Audio and Other Audio Items
---
---
FM Hearing Enhancement System and a whole lot more Thanks to your Walkman Person AM/FM radio.
Imagine a FM hearing enhancement system that was tunable to any FM frequency that a personal FM walkman type radio uses. Imagine using this system as both a low cost hearing enhancement system and as a replacement for a 70volt distribution system throughout the church.

Options include:
AM/FM mini digitally tuned radio's with ear bud head phones - $79 to 120 each
Neck loops for people with hearing aids with "T" switches - $49.00 each
Mini ear phones for minor hearing loss - $19.00 and up
Full ear coverage headsets for people with serious hearing problems or for churches with very long reverberation. - 89.00 and up
New model - LX-75 transmitter designed for church hearing enhancement
FCC Approved under - PART 15 DEVICES
Unlicensed operation on the AM and FM radio broadcast bands is permitted for some extremely low powered devices covered under Part 15 of the FCC's rules. On FM frequencies, these devices are limited to an effective service range of approximately 35 to 100 feet (11 to 30 meters). See 47 CFR (Code of Federal Regulations) Section 15.239. On the AM broadcast band, these devices are limited to an effective service range of approximately 200 to 250 feet (61 to 76 meters). See 47 CFR Sections 15.207, 15.209, 15.219, and 15.221. These devices must accept any interference caused by any other operation, which may further limit the effective service range. For more information on Part 15 devices, please see OET Bulletin No. 63 ("Understanding the FCC Regulations for Low-Power, Non-Licensed Transmitters"). Questions not answered by this Bulletin can be directed to the FCC's Office of Engineering and Technology, Customer Service Branch, at the Columbia, Maryland office, phone (301) - 362 - 3000.
Approved under the DOC in Canada.

To learn more about this new system, drop us a line here at jdbsound@echo-on.net

Or go to the Manufacturers Home page at http://www.decade.ca



Churches That now have this system.
Malvern Christian Assembly, Toronto, Ontario - Local
Faith Baptist Church , St. Thomas, Ontario - Community Broadcasting


---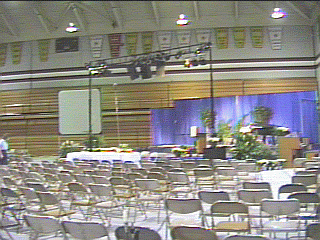 A New Way to Hang Around.

Frontline Trusses. Made by JdB Sound, Acoustic Lab..
This truss has been designed for small to medium size events. The whole truss can fit into a Van, Mini Van or Station Wagon, along with the rest of a sound system.
Span Sizes - 24 and 30 feet
Carrying Capacity
24ft. = 1500 pounds 30ft. = 1100 pounds




---

Sample Shown - BCOQ Convention 1996 - June 11-15th.
Room size 130 x 130 - MacMaster University. Span - 24 feet. Speakers - 3 - EAW KF300 Lights - 12 Par 64's & 6 Leko's
Setup time with speakers and lights - 1 hour or less Truss weight as shown - 24 feet 160 pound. - 4 sections Weight of Speakers & Lights 400 pounds Supports were rented L-16 towers. Lift height - 18 feet - Weight Capacity - 500 pound each. Flex over span - 1 inch over 24 feet - 2 inches over 30 feet Color - Flat Black Space needed to transport the truss - 13 inches high x 13 inches wide x 72 inches (6 feet) long.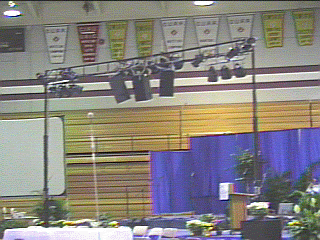 Basic Construction
Top and Bottom span - 1 1/2inch box tubing Vertical dividers - 1 inch box tubing End units are 2inch -thick wall Box Tubes Section weight - 40 pounds
Section length 6 feet Link sections - 2 inch thick wall box tubes Assembly is done with 3/8th - grade eight nuts & bolts Assembly time - 2 people 6 minutes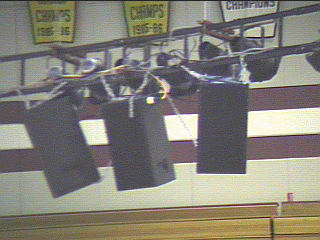 Basic Cost - $ 1,399.00 Cdn. + shipping and Taxes - (1,099.00 US plus Shipping. NO TAX)
Options
Quick Disconnect Bolt and safety pin assembly - $140.00us for full set Speaker pull points - $65.00us (for three speaker setups.) Speaker "D ring" for up to 6 speakers - $ 490.00us Light extenders - $65.00 for sets of 2 - (Allows you to mount par cans up to 30 inches out from the front and back of truss)





Other Custom options are available. Call for details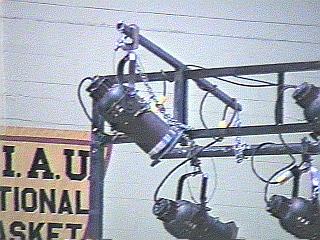 - -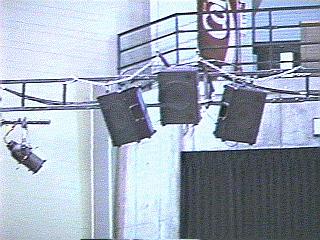 Additional Shots of the Truss for the 1997 Baptist Women Conference.
You can see the new outriggers for the lighting and the Tannoy CPA 12 Speakers.

For details, call 416-248-9007 or send us an E-mail

---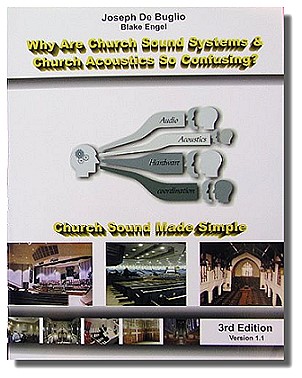 Back to JdB Sound Acoustics.

63 Lockerbie Avenue, Toronto, Ontario Canada M9N 3A3 PH. 416-248-9007

For questions or comments, our e-mail address is - jdbsound@echo-on.net


Copyright (c) 1996 JdB Sound, Acoustic Lab.



---
Copyright © 1996

Most recent revision June 20th, 1996